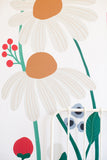 Flower Garden removable wallpaper mural - white
$180.00
Turn your little one's room into the most magical of flower wonderland with this removable wallpaper mural. Also available in navy here. 
Details:
Made in the USA
Easily removable - perfect for rentals, special occasions, etc.
Beautiful woven peel-and-stick paper that is formaldehyde-, phthalate-, PVC-free. 

Before application, please make sure, that your wall is prepared properly. The wall should be completely smooth and dust-free. The mural won't adhere well to bumpy, textured, newly painted walls, or walls painted with latex paint.

Printed using durable, eco-friendly ink so the colors stay vibrant. 
The mural comes in rolls 2-feet (24 inches) wide.
Made to order, non-refundable. Please allow 2-3 weeks for processing.
Exact mural width:

4 feet mural is 3'10.5"
6-feet mural is 5'10" 
8-feet mural is 7'9.5" wide
10-feet mural is 9'9" wide
12-feet mural is 11'9" wide
14-feet mural is 13'8.5" wide
Need to figure out what size mural to order? Easy:
Measure the overall surface you want to cover - make sure to include doors/windows but NOT baseboards/moldings. See attached picture.
Round up your measurements up to the nearest foot/cm.
In the size menu, select desired height and width of the mural to match the surface your need to cover.